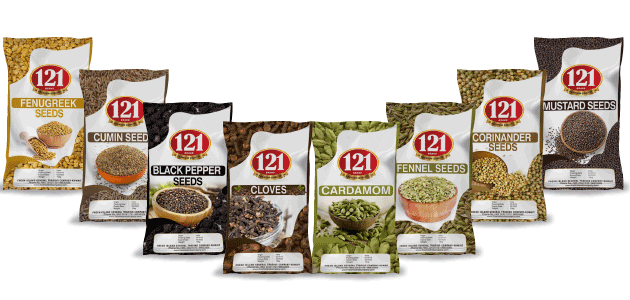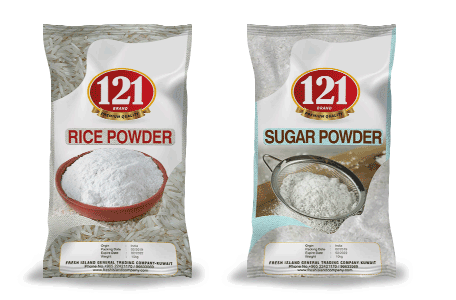 Best Quality Herbs & Spices
We supply products which are hygenically proessed and maintained purity from world famous suppliers. Some of the herbs and spices are included from our range and we continue to add more as we expand.
Bay Leaf– Adds a woodsy background note to soups and sauces.
Cardamom– This warm, aromatic spice is widely used in Indian cuisine. It's also great in baked goods when used in combination with spices like clove and cinnamon.
Cayenne Pepper– Made from dried and ground red chili peppers. Adds a sweet heat to soups, braises, and spice mixes.
Chia Seeds– No, these seeds aren't just for growing crazy terracotta sculptures! Nearly flavorless, they can be ground into smoothies, cereals, and baked goods for extra nutrition and texture, or even used as a vegan egg substitute.
Cinnamon(also: Vietnamese Cassia Cinnamon) – Found in almost every world cuisine, cinnamon serves double duty as spice in both sweet and savory dishes.
Cloves– Sweet and warming spice. Used most often in baking, but also good with braised meat.
Coriander Seed– Earthy, lemony flavor. Used in a lot of Mexican and Indian dishes.
Cumin– Smoky and earthy. Used in a lot of Southwestern U.S. and Mexican cuisine, as well as North African, Middle Eastern, and Indian.
Fennel Seed– Lightly sweet and licorice flavored. It's excellent with meat dishes, or even chewed on its own as a breath freshener and digestion aid!
Fenugreek– Although this herb smells like maple syrup while cooking, it has a rather bitter, burnt sugar flavor. Found in a lot of Indian and Middle Eastern dishes.
Hot Pepper– Widely used for seasoning of variety for cuisines all over the world 
Turmeric Powder & Finger – Sometimes used more for its yellow color than its flavor, turmeric has a mild woodsy flavor. Can be used in place of saffron in a pinch or for those of us on a budget.
Red Chilli (long) & Powder

– Rich flovored mainly widely used more for rich spice property in middle eastersn and indian subcontinent. 

Tamarind– is a delicious sweet and sour fruit that has a wide variety of uses, both for medicinal and culinary purposes. 
Pickles –  pickled food, native to the Indian subcontinent, made from a variety of vegetables and fruits, preserved in brine, vinegar, or edible oils along with various Indian spices.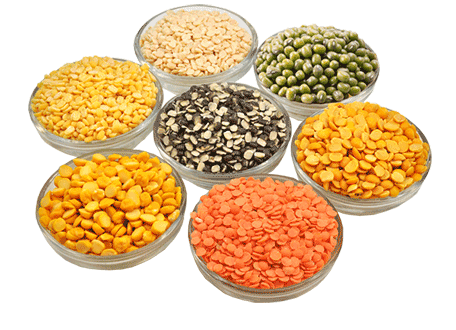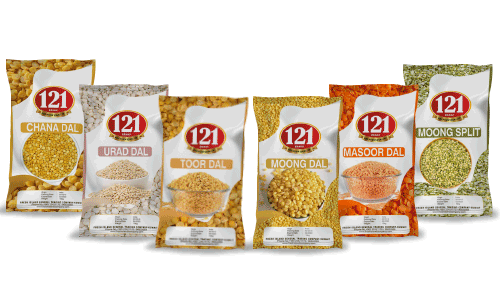 Pulses / Legumes
We supply products which are hygenically proessed and maintained purity from world famous suppliers. Legumes are great sources of fat, protein and carbohydrates. Different varieties contain varying amounts of these nutrients, with beans, nuts, peas and lentils all having unique nutritional profiles. Although these foods are a staple of vegetarian diets, non-vegetarians can also benefit from eating more legumes.
Lentils– Lentils were originated from Asia. Now it is a popular food worldwide for its taste and unique quality. These are usually flat and round. But there are several more varieties based on their size and taste. Here are some of them..
Castilian lentils – Castilian lentils are yellowish. Castilian lentils are very flat and hard which makes them fairly easy to cook as they don't break at the time of cooking. As the Castilian lentils are larger in shape, these are more preferred to use in the salad. Besides these lentils can also be eaten after being cooked
Brown Lentils – Brown lentils are among the most common lentils worldwide and regularly seen in the grocery shop near you. These are brownish but some species might be dark black as well. Brown lentils are usually flavorful and mild in taste. Brown lentils can hold their shape well but take around half an hour to be cooked. These are a rich source of protein and other vital nutrients.
Black Gram (Urud Dal) -The beans, popularly known as urad, are the fruit pods of a plant originally from India. It is an annual, drought tolerant, dicotyledonous legume. The black gram beans carry relatively high protein composition than chickpeas.
Moong Dal  Moong dal is one of the most favored dal or lentils in Indian cuisine as it is easily digestible. Mung beans or lentils are said to be tridoshic & can balance any disturbances in the body.
Chana Dal – Chana dal is also known as bengal gram. these lentils have a sweet and nutty taste. Chana dal comes from black chickpeas (kala chana). They are split and the outer cover is removed. These lentils are also powdered to give besan or gram flour.